Written in partnership with Marcella Holmes
Getting dressed in the morning isn't always easy, but when you've got a closet full of clothes that you actually love, then you should never have to worry about stepping out in a bad outfit.
Previously on Life in Pumps, we talked about how to spring-clean your wardrobe, which includes getting rid of clothes that don't fit or you haven't worn in over a year. If you're looking to make some room, that's a pretty good place to start. That way, you can make way for these 2019 essentials and unique fashion pieces that you're sure to look great in.
Crewneck Tee
When it comes to t-shirts, it's often the simplest ones that look best. There's just one thing to consider: its neck style. Wherever you look, you're bound to see someone in a crewneck tee, but there's a reason why everyone seems to love it. While they layer well with jackets, casual shirts, and cardigans, they also work under dress shirts and blazers. White tees, like the ones from Uniqlo, feature the ubiquitous neckline and countless solid colors to choose from. Top it off with a pair of jeans and you're good to go.
Crochet Dress
No longer reserved for your tablecloth, crochet clothes have started taking over the high fashion runways since last year. Oscar de la Renta and Michael Kors' crochet pieces bring forward the best of summer wear, using earth tones and neutrals. On the streets, crochet makes its appearance through maxi dresses, swimsuits, tops, and even shoes.
Biker Shorts
Perhaps one of the biggest trends to hit the streets in the past few years, athleisure has reinvented what it means to merge comfort and style. According to an article on The Atlantic, the definition of athleisure can include everything — from tennis shoes and polo shirts, to leggings and windbreakers. The flexibility is pretty much why people can't seem to get enough of it, but one specific piece that stands out are biker shorts. Celebs and models are often spotted wearing them with loose sweatshirts, cropped tops, and even formal blazers for a chic twist. Similarly, you can also try your hand at this trend, whether you're going on a coffee run or to a yoga session.
Suspenders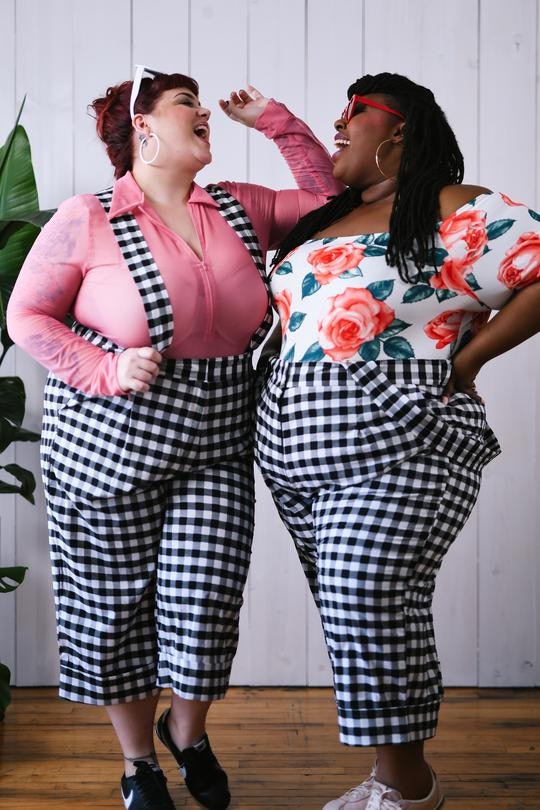 In the 19th century, suspenders were the ultimate utilitarian piece, used to hold men's pants in place under a jacket. Today, suspenders remain equally useful, but have gone on to become fashionable accessories in their own right. Pair suspenders with a range of bottoms you already own, like jeans or a skirt. They are guaranteed to give any outfit a vintage edge. Plus, they look great for every body type and occasion (not just a '60s picnic!).
Straight Leg Pants
Pants are never going to go out of fashion, but not all pairs are made equally. Recently, straight leg pants have been having their moment in the limelight. Not to be confused with yesterday's skinny jeans, these pants run straight from the hip down to your ankle without tapering. You can't go wrong with this type because they can easily be dressed up or down. Woman Within's 7-Day Knit Straight Leg Pant boasts a classic silhouette that can be taken from the office to after-work parties. As an added bonus, this cut also gives the flattering illusion that you're taller than you actually are.
Ballet Flats
Ballet flats used to be en vogue until sneakers and mule trends took over. Now, they're back and women everywhere are embracing this timeless style of shoe. They have since been refreshed with new details, like the square toes on Jeffrey Campbell. It adds a feminine touch to any outfit, touting comfort and simplicity alongside it.